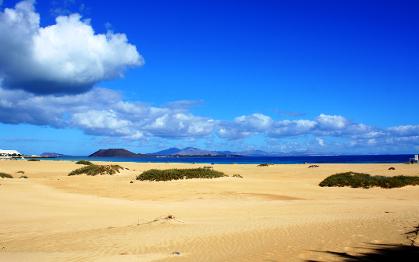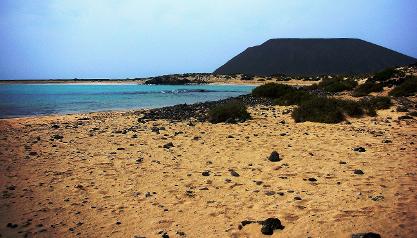 Just outside of the town of Corralejo is a vast area of white sandy beaches and impressive dunes very reminiscent of the Sahara, edged by the crystaline turquoise waters of the Atlantic Ocean. Classified as a Natural Park, this spectacular area contains examples of all the different kinds of landscape to be found on Fuerteventura, beaches, dunes, stony paths, hills and gullies.



Lobos Island
Two kilometers north of Corralejo is the Isla de Lobos, it has an area of 4.6 km². and has been a nature reserve without permanent human population since 1982. In 1405, Lobos Island served as resupply base for Jean de Béthencourt's conquest of Fuerteventura. Lobos Island (Wolves Island) was named for the large number of sea wolves, also called monk seals, that once lived there. The monk seals were the island's only inhabitants when it was discovered by the Spanish conquerors of the Canaries archipelago in the fifteenth century, but with the arrival of man, these animals were hunted on a massive scale by sailors and fishermen who saw them as a source of food, fat and skin. As a result of this hunting, the species eventually became extinct on the island and its presence now is only occasional.
The island is a popular location for day trips for tourists visiting from Fuerteventura who have an interest in flora, fauna and geology.
The island has a geological age of 2 million years, quite a youngster compared with Fuerteventura.
Boats from Corralejo Harbour make the trip to the island several times a day; the island is great for swimming especially the La Concha beach to the left of the jetty.