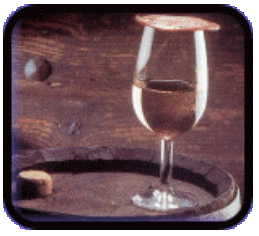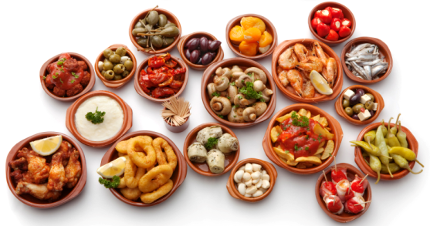 The little portions of food served to accompany a drink in bars in Spain and the Canaries are popularly known as tapas.
The use of this term as synonymous of aperitif has an uncertain source. While the origin of the word is not disputed (literally meaning lid), the origin of tapas as the feast of many small dishes is highly debated. The word tapa is now used to describe a small dish of food, served as a snack and is popular all over Spain, the origin of the tapas custom most probably does lie in the placing of a small plate or lid over a glass of wine when served and by extension, that came to mean little saucers of food, placed on the drink or at the side.

Royal tales

Some authors assert that the tapa was born when, due to an illness, the Spanish king Alfonso XX, the Wise, was instructed by his physician to eat many small meals a day with some wine. Once recovered from the disease, the wise king decreed that no wine was to be served in any of the inns in the land of Castile, unless accompanied by something to eat. This was a wise precaution to counteract the adverse effects of alcohol on those people who, through lack of money to buy a nourishing meal, drank alcohol on an empty stomach.

However the origin of tapas, a Spanish institution, is veiled in legend and tall tales. The predominant founding tapas myth is that small dishes (tapa means "lid" or "cover" in Spanish) were placed over wineglasses to keep the flies out; titbits of food were then placed on top. Another story tells of a Spanish King that suffered from a stomach ailment that allowed him to digest only tiny portions.
Another tale claims that the army invented the tradition of eating tapas in bars to keep soldiers from getting too drunk on their nights on the town.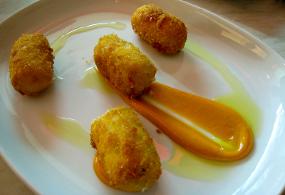 Some claim that Tapas are semi-Moorish in origin and there are sources that locate its origin in the Andalusian ventas (roadside inns), and it is told that, in order to accompany sherry and aromatic wines, thin slices of chacina (cured meat) began to be used to avoid evaporation of the wine's aroma (due to this region's temperatures) by placing them on the cups.

In the southern winemaking region of Andalusia, it is customary to be given a small dish of food, basically just a nibble, when buying an alcoholic beverage. In some bars, the pairing of drink and tapa by the server is considered an art in its own right- the marriage of alcohol and food is paramount: "The drink stimulates the appetite and aids digestion, and the food palliates the ethylic effects of the drink, the combination of these factors results in a perfect balance."

It is widely believed that the tapa originated in Seville and in particular in a restaurant called the Cafe de la Iberia. When someone asked for a Manzanilla (a dry, white wine) with something to cover (tapar) it, the landlord served the glass with a slice of ham over the top. The ham served better than a plate and this became a custom and finally a family business.
Other people think that this practice came from protecting the wine from insects to fall inside it and some that that the word "tapa" was used because it "covers" the appetite.
Tortilla Española – Spanish Omelet
No doubt about it, the Spanish omelet is the most commonly served dish in Spain and is also known as a tortilla de patata or potato omelet. It is such a popular dish, some call it "the national dish of Spain." It is made of of three simple ingredients: eggs, potatoes and onions. It is not only served as a tapa, but also as a main dish for a meal and a filling for sandwiches.

Gambas al Ajillo – Garlic Shrimp
One of the most common and most popular tapas in Spain, this dish is quick, easy and FULL of garlic flavor. Your guests will be asking for the recipe after the first bite, especially the garlic lovers!

Tigres – Mejillones Rellenos – Stuffed Mussels
If you have ever been to Spain, you've most likely tasted "tigres," mussels that have been stuffed, breaded and fried.

Croquetas de Jamón – Ham Croquettes
Croquetas or croquettes are small, lightly breaded and fried sort of fritter. They are a sure hit as a tapa or an afternoon snack with a glass of beer or wine. They are creamy and smooth and very tasty.

Calamares a la Romana – Fried Squid Rings
Fried squid or in Spanish calamares fritos or calamares a la romana is such a simple, but delicious and very popular appetizer or tapa in Spain.

Patatas Bravas – Bravas Potatoes
Bravas Potatoes is one of the classic Spanish tapas dishes and is served in bars all over Spain. The sauce has a slight bite from the Tabasco, hence the name bravas, which means "fierce" in Spanish.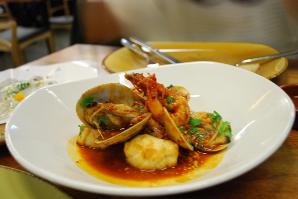 Jamón, Queso y Chorizo con Pan - Ham, Cheese and Chorizo with Bread
This is a simple, but delicious appetizer or that everyone enjoys. It involves very little cooking and you can put it together at the last minute. Be sure to use Spanish chorizo and Serrano ham for best results!

Pulpo Gallego
Galician-Style Octopus is a traditional tapa from Galicia, served all over Spain today. It is very simple - cooked octopus served with boiled potatoes, olive oil and sweet Spanish paprika.

Boquerones en Vinagre
Fresh anchovies marinated in vinegar, oil and garlic are a traditional and very popular "tapa" in Spain. A good tapa bar always has a platter of boquerones on the bar and it is a favorite of Spaniards and foreigners alike.